Home
Radio
Ordering
About Device
About Us
Why Packetchat?
Contact Us
PacketChat - Join Our Community!
August 4, 2019

A message from our founder, Jonathan Taylor:

PacketChat is a brand new startup. I have a full-time day job, and work on this nights and weekends. I think we've got a great idea, and we've made a few working radios, but progress has been slow, and urgency is on the rise. The solution still needs a lot of stabilizing work in software, firmware and hardware, to be ready for prime-time. We incorporated as a business to get serious about it, because we really believe the community will benefit. You can help us make this dream a reality by donating to PacketChat.

Please understand, I'm not selling stock. This is not an investment, nor is it a way for you to become a part-owner of my company. This is basically a "T-Shirt and knick-nacks" style fundraiser via PayPal. It's how we raise just enough money to cover the costs of materials, skilled labor, manufacturing and overhead to make these radios, and the PacketChat dream, a reality.

Second-- do you have skills we'll want to hire for very-modest pay? Or better yet, are you super-skilled, and would simply love to put those skills to good use for a radio project that will benefit the world community with no expectation of pay or compensation of any kind? Let us know.

Sincerely,

Jonathan Taylor, WQ6F, A.K.A., Temtel
Chief "Hacker", PacketChat
$50+ = Bumper Sticker
$100+ = T-Shirt and Bumper Sticker
$500+ = Dinner in Sacramento area with Temtel and Crackerjack, T-Shirt and Bumper Sticker
$5000+ = Wow! Temtel & Crackerjack will fly anywhere in the Continental US to have dinner with you. Yes, you'll get T-Shirts & Bumper Stickers too.
P.S. We'll email you to get your T-shirt size & shipping info, or give us a call at 916-624-7487. Thank you for your support!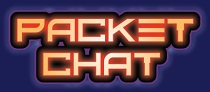 © 2019 PacketChat